The Maxwell Street Blues Bus needs support in 2020!
The iconic Blues Bus that had sold blues music and celebrated blues musicians at the historic Maxwell Street Market under the ownership of its creators, John and Marie Johnson, underwent dramatic changes in 2019.  In September it was ravaged by skilled vandals who, in broad daylight over the course of three consecutive days (as reported), cut away the front end portion of the bus with the engine, and further stripped the interior and removed all the windows and both doors while on the vacated lot at which it had been stored since 2004. Maxwell Street Foundation members orchestrated the tow of the bus to an alternative safe haven where it was immediately "tagged" by a succession of graffiti artists rendering its current iteration.  The bus in its current state literally needs "support" for its next journey so that it can be towed inside an interior space for programming.  It needs a third wheel support on its front end so as to have a "boat trailer" configuration for positioning.  If you have these skills or services, please contact us with your resources.  The Maxwell Street Foundation is a 501(c)(3) nonprofit corporation, and your services could be tax deductible.
If you share our vision for a next stage for the Blues Bus in Chicago, please partner with us.  Or, make a contribution to our cause on the Support Us page of our website where you can send a safe donation through our DONATE button at http://maxwellstreetfoundation.org/support-us/
Do you have questions or suggestions for us?  We welcome them at info@maxwellstreetfoundation – or write to us at Maxwell Street Foundation, P.O. Box 4307, Chicago, IL 60680-4307.
Please read below for the story of the Maxwell Street Foundation's association with the Blues Bus, and its current state.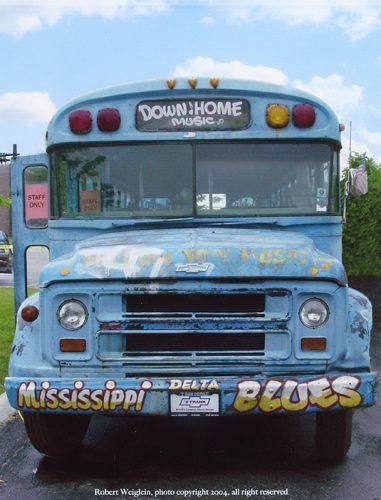 Photo credits above and below: Robert Weiglein, photo copyright 2004, all rights reserved.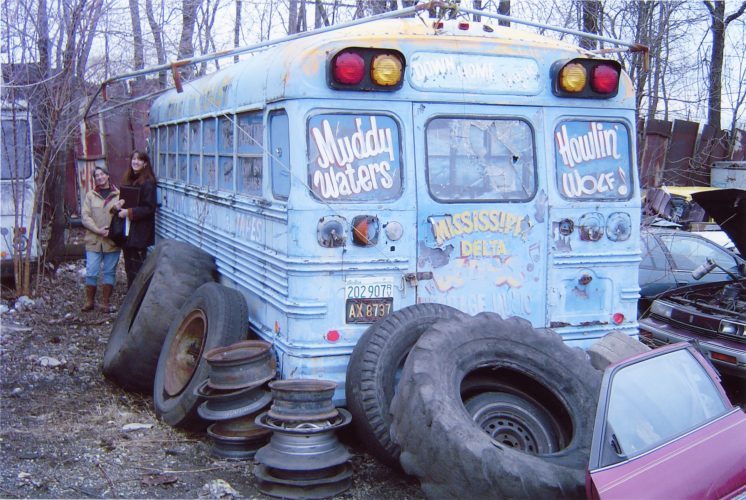 In 2004, the Maxwell Street Foundation resurrected the non-operable 1970 Chevy Bluebird school bus with permission of its owner from a location on Chicago's South Side and leased the bus from him to create programming that celebrated the connection of the Blues Bus to the historic Maxwell Street Market. An original street theatre piece based on characters in Ira Berkow's book, "Maxwell Street: Survival in a Bazaar" (Doubleday, 1977) was developed and performed free in front of the bus towed to outdoor Chicago venues, as the images show below. Interpretive exhibition panels mounted on one side provided historic context, and blues musicians performed authentic Chicago blues music around it. Grants secured by the Maxwell Street Foundation from the Illinois Arts Council and the Driehaus Foundation made this possible.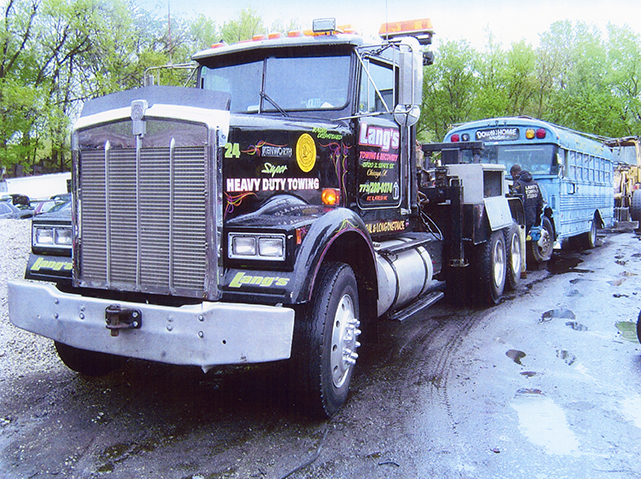 Photo credits below:  Steve Balkin, 2004.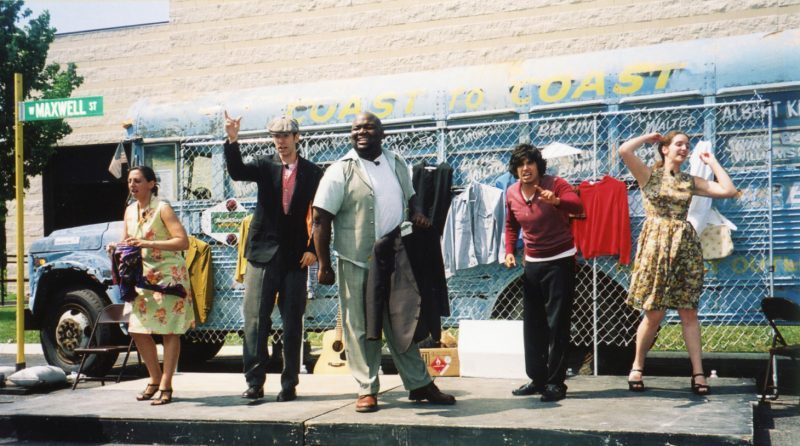 .
In 2008, the Blues Bus made its debut at the Chicago Blues Festival where it continued an annual presence through 2010 manned by the Maxwell Street Foundation in partnership with its owner. It made a final public appearance in 2010 on Labor Day Sunday at the New Maxwell Street Market, again manned by the Maxwell Street Foundation in partnership with its owner.  Following this final appearance, the Maxwell Street Foundation retired their use of the bus to the owner who did not claim it and recently offered it to the Foundation for its future preservation. To this end, the Maxwell Street Foundation seeks a fellow steward to tow the bus to a final destination where it can be creatively reconsidered and re-purposed in celebration of its heritage. 
(Photo credit below:  Janelle Walker, December 2019)