Display of Maxwell portraits extended at Saint Ignatius College Prep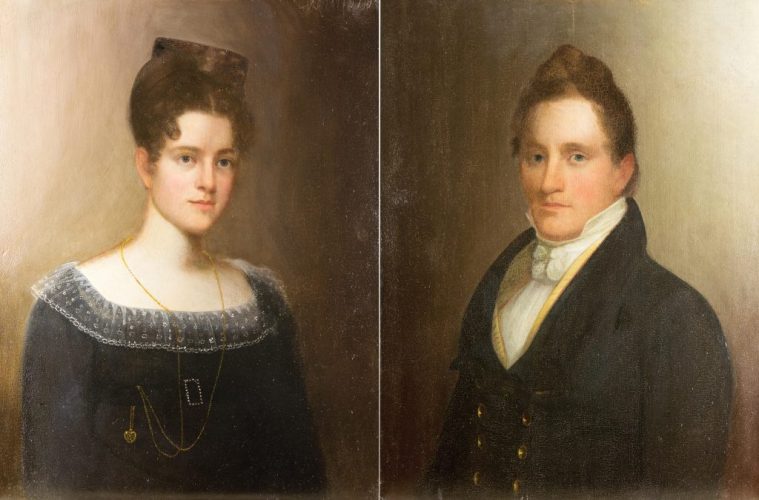 The portraits of Dr. Philip Maxwell, for whom Chicago's Maxwell Street is named, and his wife Jerusha are presented at Saint Ignatius College Prep inside the school's Main Entry that has fronted the Maxwell Street neighborhood since 1869.
On loan to Saint Ignatius College Prep from the Maxwell Street Foundation, the oil on panel paintings are believed to be the wedding portraits of the Maxwells who married in 1822. They are attributed to portraitist Abraham G.D. Tuthill (1776-1843) who studied with noted artist Benjamin West in London. A generous gift each from the Richard H. Driehaus Charitable Lead Trust and Dr. Samuel and Mrs. Wexler provided for the conservation of the oil panels and repair to the frames, and from Saint Ignatius College Prep for the archival glazing. The portraits were donated to the Maxwell Street Foundation by Ms. Leslie Evans in 2010, a fifth generation descendant of the Maxwells.
Dr. Philip Maxwell and his wife Jerusha were early citizens in Chicago in 1832 when Philip took a post as assistant surgeon at Fort Dearborn. Following the fort's closure in 1836, he remained in the military under General Zachary Taylor in Florida until he resigned his military post and returned to Chicago in 1844 where he became city physician. In 1848, he joined the practice of Dr. Brockholst McVickar atLake and Clark Streets near the popular Tremont House, where his spirited discussions became legend and he resumed his role as a physician and formative character in the early days of the city of Chicago. In 1855, following his withdrawal from candidacy for mayor of Chicago, he built a retirement home on Geneva Lake in Wisconsin and lived there until his death in 1859. The Maxwell residence in Lake Geneva today is recognized as the first of Lake Geneva's historic mansions.
Collaboratively developed with Saint Ignatius College Prep, the formal opening for the mounted portraits occurred April 26, 2018 and their display is now extended to coincide with the school's sesquicentennial celebration beginning July 2019 through June 2020. Saint Ignatius College Prep is located at 1076 W. Roosevelt Rd. Call (312) 421-5900 about school hours for access to view the portraits. Please contact the Maxwell Street Foundation at gro.n1573835150oitad1573835150nuoft1573835150eerts1573835150llewx1573835150am@of1573835150ni1573835150 to learn more about the history of these unique portraits.
Photo credit:  Julian Baumgartner, Baumgartner Fine Art Restoration, 2016